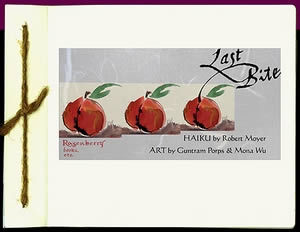 Bob Moyer collaborated with artists Guntram Porps and Mona Wu to produce Last Bite, a haiga exhibition.  Now also a hand-bound book.
The exhibition opens April 5 at the Inter_Section Gallery and Art Space at 629 N. Trade Street, Winston-Salem. For more details, see the Facebook page for Last Bite. See also the pictures from gallery opening for Last Bite on April 5, 2013.
See also this link for Last Bite, the hand-bound book from Rosenberry Books.