Haiku Holiday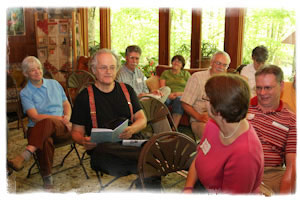 Help us celebrate our 35th annual Haiku Holiday on Saturday, April  26, 2014. All haiku readers and writers are welcome!
Our first Haiku Holiday took place at Bolin Brook Farm near Chapel Hill on January 26, 1980. Since then, all of our annual meetings have been held at Bolin Brook Farm, thanks to Jean Earnhardt, our gracious host and good friend.
Our Galleries section has some pictures from past Haiku Holidays. A few years ago, we celebrated the release of The Stone House, an anthology of haiku inspired by Bolin Brook Farm.
Special Instructions
Please bring a bag lunch. Check the weather and dress accordingly. Haiku Holiday is held rain or shine.
Please consider bringing one favorite haiku on a 3 x 5 card. The haiku should be by someone other than yourself. Be sure to include the poet's name on the card, if you know it. The haiku can be on any subject. We'll post these cards around Jean's house for people to read during the day.
If you are going to participate in a workshop, bring previously written, unpublished haiku—or you can dash one off after the ginko (haiku walk). Membership in the North Carolina Haiku Society is encouraged but not required. There is no membership or registration fee, but small donations will be gratefully accepted.
Presenters
John Stevenson, one of the most respected haiku poets in the U.S., will be our main guest presenter. John is the managing editor of The Heron's Nest and is a member of the Route 9 Haiku Group.
We'll have lots more going on as well. More on that as we get closer to Haiku Holiday.
Schedule
Saturday April 26, 2014
Planning is in progress. Haiku Holidays start at 8:30 in the morning and go until about 3:30 that afternoon. All schedules are tentative, of course, due to weather, whims, and twists of fate.
Our Host
Jean Earnhardt retired in 1995 after 20 years as a hospital PR/marketing director. She received her undergraduate degree in English from Carolina in 1952 and a Masters in Liberal Studies from Duke forty years later. While raising two sons she sold freelance features and photographs to newspapers and tried her hand at short stories and poetry. She lives on Bolin Brook Farm, an old farmstead that has been in Jean's family for 12 generations.
Location
Bolin Brook Farm is a beautiful place, but you might need a little help in finding it. Be sure to leave yourself plenty of time to get there. Here is Jean's address and contact information:
Jean Earnhardt
600 Bolin Brook Farm Road
Chapel Hill, NC 27516
919-929-4884
jjearn@bellsouth.net
Contact
The main contact for this event is Dave Russo. Please use the Contact page on this web site to send Dave an email.