---
Event: The Spirit of Haiga: A Workshop and Gallery with Ion Codrescu
Date: Sunday, September 22, 2019
Time: 3:00 – 5:00 PM
Location: Spring Hill House, NC State University Dorothea Dix Campus
Cost: Free
Contact: Dave Russo at dave.w.russo@gmail.com. You can also respond on this Facebook event page.
The NC Japan Center and the North Carolina Haiku Society are pleased and honored to host Dr. Ion Codrescu, a renowned and celebrated haiku poet and haiga master.
Haiga (俳画, haikai drawing) is a Japanese art form that combines "a haiku poem, written in calligraphy, with a simple painting." — The Haiga: Haiku, Calligraphy, and Painting, Poets.org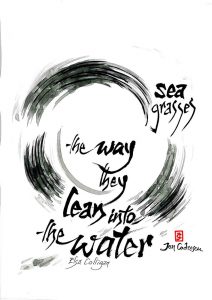 Dr. Codrescu is a published author and artist and holds an associate professorship at Ovidius University of Constantza, Romania, and also teaches ink painting at the Visual Arts Centre and graphic art at the Nicholae Tonitza School of Art, both also in Constantza. He has received numerous prestigious scholarships and awards, been invited as a visiting scholar in Japan, published 18 books in eight countries, had his work displayed in museums, and has been invited to speak and display his art at venues and conferences the world over.
Dr. Codrescu shall be visiting North Carolina as part of his North American tour, and we're thrilled he has agreed to visit us here at NC State.
He will be giving a presentation titled "Japanese Haiga and Western Artists," geared for beginners with haiga, explaining the cultural, spiritual and artistic roots of Japan that were the basis of this unique art form throughout the world. There will also be a small gallery showcasing his haiga.
Admission is free, but space is limited! If you are interested in attending, please contact Dave Russo of the North Carolina Haiku Society at dave.w.russo@gmail.com. You can also respond on this Facebook event page.
We're looking forward to seeing you there!