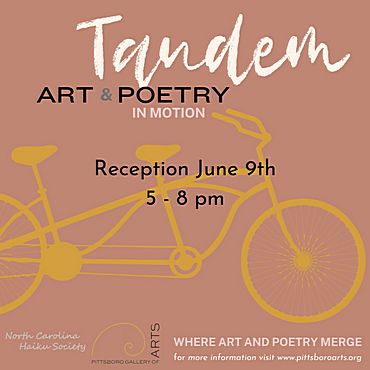 Event: Tandem: Art & Poetry in Motion, a collaboration between the Pittsboro Gallery of Arts and the North Carolina Haiku Society.
Opening Reception: Friday, June 9, 5-8 pm. Meet the artists and poets and enjoy wine and hors d'oeuvres.
Show Duration: June 7th to July 2nd.
Location: Pittsboro Galley of Arts, 44-A Hillsboro St., Pittsboro, NC 27312
Parking: There is a gravel parking lot directly behind the gallery, as well as a community lot near the courthouse if you turn off the circle onto West St. It's on the right almost immediately. See also Public Parking in Pittsboro
Twenty artists prepared artwork for the Tandem show: photographers, a sculptor, ceramists, jewelers, fiber artists, and many painters working in oils, watercolors, and acrylics. Members of the North Carolina Haiku Society wrote haiku in response to 20 works of art in the show. Our haiku will be displayed in the gallery with the artwork that inspired them. For more about the haiku we wrote for the Tandem show, see Pamphlet About the Poems for Tandem: Art & Poetry in Motion.
In addition to the featured haiku by NCHS, gallery visitors will be encouraged to write haiku in response to the art. The visitor haiku will be collected and displayed on a wall in the gallery.
The Pittsboro Gallery of Arts will produce a booklet of artwork and the NCHS haiku from the show. Copies of the booklet will be available from the gallery and can be ordered from the PGA website.
You can pre-order the booklet now from the home page of the PGA website.