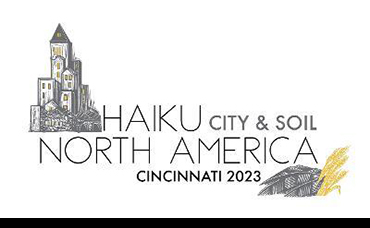 The complete program for Haiku North America 2023 can be downloaded here.
Haiku North America is the largest and oldest gathering of haiku poets outside Japan. It's a haiku immersion experience, as you might guess from these photos from HNA 2019 in Winston-Salem, NC and HNA 2017 in Santa Fe, New Mexico.
HNA 2023 will be held at the historic Hilton Netherland Plaza hotel in Cincinnati, Ohio, from June 28 to July 2, 2023–with a tanka day on July 3. See haikunorthamerica.com for details.
"Haiku North America (HNA) is a biennial conference in celebration of haiku poetry. Every two years we offer five stimulating days of papers, panels, workshops, readings, performances, book sales, cultural outings, and much socialization with fellow poets, translators, scholars, editors, and publishers. Our first conference was in 1991 and subsequent conferences have taken place in the United States and Canada, focusing on North American poets, their haiku, and related arts. Everyone is welcome to attend HNA, the largest and oldest gathering of haiku poets outside Japan."