* ARCHIVE * Accommodations for Haiku North America 2007 * ARCHIVE *
Updated: June 16, 2007
The main venue for Haiku North America 2007 is the Hawthorne Inn and Conference Center on 420 High Street, Winston-Salem, North Carolina. See their Web site (http://www.hawthorneinn.com) or call toll-free (877) 777-3099 for reservations.
Be sure to ask for the Haiku North America conference rate: $79.00 per night for a room with two double beds or a king-sized bed. (About $90.00 with tax.) If you stay at the Hawthorne you will get a great room and will keep our meeting costs down.
Note: You can still get the conference rate from Wednesday through Saturday at the Hawthorne Inn, but the rooms seem to be going fast. So you might want to make your reservations sooner rather than later. Be sure to use the words Haiku North America when you call the reservation desk.
*
Other accomodations within walking distance of the Hawthorne include:
*
Weather: In August, the average temperature is 87 ºF during the day and 66 ºF at night. See Today's weather in Winston-Salem.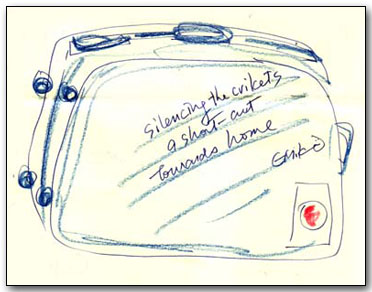 Sketch and haiku by Emiko Miyashita.