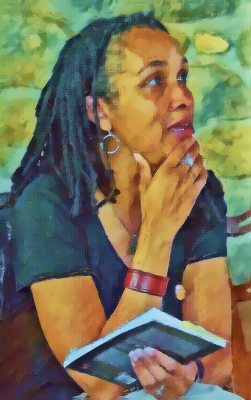 2023 will be a big year for poet and Duke faculty member Crystal Simone Smith. She has two new poetry collections coming out from major publishers. Haiku that she wrote in response to runaway slave ads will be part of Songs in Flight, a multilayered collaboration with leading Black American poets, composers, and performers—including Grammy-Award-winning Rhiannon Giddens.
"A powerhouse of artist-storytellers – Will Liverman, Reginald Mobley, Karen Slack, Howard Watkins, Tsitsi Jaji, Shawn Okpebholo, and Kimille Howard – have built a memorial to the stories contained within Freedom on the Move [a database of slave artifacts]. Musically, they tie the Western European tradition of art song to forms that are distinctly American, especially those of formerly enslaved African peoples." – Erika Switzer and Martha Guth, co-directors, Sparks & Wiry Cries
Songs in Flight will open on Thursday, January 12, 2023, at the Metropolitan Museum of Art.
Haiku at the MET, people!
Some of the haiku written for Songs in Flight are combined with tanka in Crystal's new poetry collection, Moonlit Map, which will be published in the fall of 2023 by Duke University Press.
Henry Holt will publish another collection of Crystal's poetry in January: Dark Testament: Blackout Poems, a collection of creatively blacked-out passages from the novel Lincoln in the Bardo, by George Saunders.
"I love this tremendously skillful, timely, and dazzling repurposing of passages of my novel, Lincoln in the Bardo. Crystal Simone Smith has, with her amazing ear and heart, found, in that earlier grief, a beautiful echo for our time." –George Saunders, New York Times bestselling author of Lincoln in the Bardo and Tenth of December
Congratulations to Crystal for this amazing triple play!