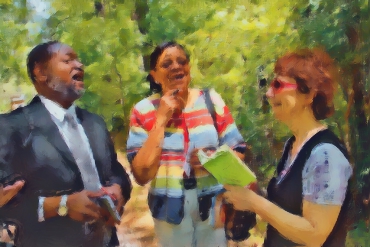 Haiku Holiday is a small gathering that features talks, walks, and conversations about haiku. Here are some photos from Haiku Holiday in 2018. This will be our forty-third annual Haiku Holiday–our first in-person Haiku Holiday since 2019.
All are welcome!
Date: Saturday, April 29, 2023
Time: 9:00 AM to 3:30 PM EST
Location: Bolin Brook Farm, 600 Bolin Brook Farm Road, Chapel Hill, North Carolina 27516
RSVP: Please use our Contact form to ask questions and let us know that you're coming.
Check the weather and dress accordingly. Haiku Holiday is held rain or shine.
Schedule
The morning session is for informal socializing, wandering the grounds, and a show-and-tell of haiku-related books, artwork, and objects. Please bring your own lunch. The afternoon session includes presentations by Crystal Simone Smith and Lenard D. Moore.
Morning
9:00 AM to 10:00 | Informal socializing, wandering the grounds, show-and-tell of anything you think your fellow haiku poets would like to see (books, artwork, objects, etc.)

10:00 to 11:30 | Basho's Knapsack | Anyone who wishes can share 3-5 minutes of news, projects, events, or activities about haiku or anything else of interest to our group. We have at least two scheduled topics: a collaborative project with a local arts gallery, and a discussion of our collective experiences with organizing, publishing, and promoting a poetry collection.

11:30 to 12:45 lunch | Bring something you'd like to eat for lunch. You can bring food to share if you like. Feel free to wander the grounds and socialize. If you choose to wander, dress for the woods.
Afternoon
1:00 to 3:30   

1. Welcome to the afternoon session. 

2. Greeting haiku.
Anyone who wishes can read a haiku as a kind of greeting. The haiku could be your own or someone else's.

3. Featured presenter: Crystal Simone Smith.
Crystal writes: "I'll present the haiku from "Songs in Flight" that premiered at the Metropolitan Museum of Art. These haiku are also included in my forthcoming book, Moonlit Map, Duke Press in Fall 2023." See this blog post for details about these and other projects of Crystal's. 

4. Featured presenter: NCHS Executive Chairman Lenard D. Moore 
Lenard will kick off his new collection of haiku which he is discussing with a publisher. Lenard has attended all Haiku Holiday conferences except for the first two or three of them, when he was in the U.S. Army. See these haiku of Lenard's from Charlotte Digregorio's Writer's Blog.

5. Haiku workshop if we have time.