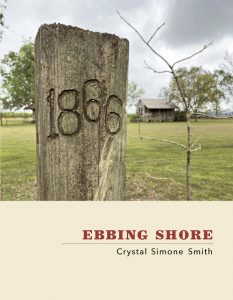 Ebbing Shore is a chapbook of haiku and photographs by Crystal Simone Smith. Most of the poems were inspired by her travels and research as a Duke Humanities Unbounded Fellow.
Smith writes: "The haiku in this collection are precisely field notes. Many were composed in the fields of plantations that once held generations of enslaved people."
Some sample poems:
slave quarters
in one brick
a thumbprint

art installation
among the slave ships
black glitter
slave museum
the entrance fountain
an ebbing shore
The combination of poems, photographs, and explanatory notes makes this book seem bigger than a chapbook. The pages are nicely bound and feel great in the hand. No surprise because the book was designed by Dave Wofford of Horse and Buggy Press in Durham, North Carolina.
You can order Ebbing Shore from the Books page on crystalsimonesmith.com.