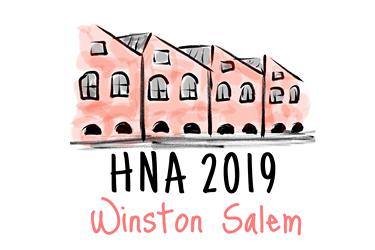 This is the second time we've hosted the Haiku North America conference in North Carolina. The first time was in 2007.  Here's the latest on Haiku North America 2019.
Check Out Our Conference Logo
We have the conference logo above, thanks to Kate MacQueen. The logo will look great on our t-shirts and tote bags. Which you can get only if you register for the conference. So . . .
Have You Registered for the Conference?
Registration fees will go up 20% on July 17th 2019. We will still accept registrations up to the start of the conference. See the Registration page for details.
Here's What We Have Planned
We're working on the schedule now. In the meantime, see our Schedule page for a list of events. Presenters include: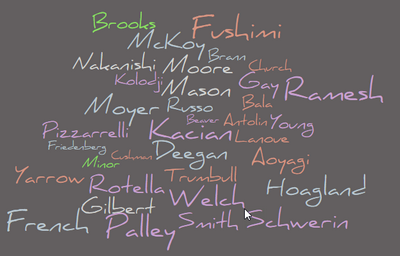 Come out and support the NCHS members who are presenting at the conference.
Crossing Over – Writing Your Own Death Haiku (jisei)
Japan has a long history of jisei, or death poems. Before crossing the wall from this earth into the hereafter, many Japanese poets wrote their "farewell poem to life." Some jisei are dark while others are hopeful. Many use metaphor and some exhibit humor. In this session I will give a brief history of Japanese jisei and share some examples of both Japanese and more contemporary western death haiku (though not all jisei are haiku). Acceptance is one of the key elements to jisei—the acceptance of life as it is, including the inevitability of death. After the brief presentation, attendees will try their hand and and have the opportunity to share their own death haiku.
The Tiny Architecture of Origami
People have folded things up since there were things for them to fold. In Europe, the things folded were mostly cloth; in Japan and China, paper. The art of folding paper into sculpture without using glue seems daunting but, it is possible and often enjoyable. In this hands-on session, we will tackle some easy and more complex models.
Then and Now: Exploring African American History, Life, and Culture Through Haiku
L.Teresa Church, Lenard D. Moore, Crystal Simone Smith, Sheila Smith McKoy, & Gideon Young
Five members of the Carolina African American Writers' Collective, coauthors of One Window's Light: A Collection of Haiku, will read and discuss their selected works from the first-ever multi-authored collection of haiku by African American poets.
Delacroix Made Me Do It: a how-to-haiku workshop for grades 2 through 7–or anyone.
Bob Moyer
Not for purists, this workshop draws upon an idea of the artist Delacroix, theater games created by viola Spolin, and an essay by Michele Root- Bernstein. Creating a non-verbal, non-psychological atmosphere using play principles, the workshop demonstrates how participants can start writing immediately and reflexively. Questions of form emerge and are resolved in the process. The workshop has been presented successfully with all levels, but is especially effective with younger writers.
Geography of Jazz
Lenard D. Moore, Matt Kendrick Trio. and others
Lenard D. More reads from his latest book accompanied by the Matt Kendrick Trio. Open to the public. Cosponsored by Music Carolina. The first set will be followed by an open mic reading by attendees, also backed by the trio.
Basho's Knapsack
Dave Russo
Dave Russo will host an open mike for informal, 5-to-7-minute talks or stories about haiku. You could tell a story about how haiku enabled you to connect with someone. You could give a talk about a book (not one of yours), a person, or experience that influenced your haiku; ways you've found to share haiku; or a practice that has been helpful to your writing life. Anything that has enhanced your enjoyment of haiku.
Haikupedia!
Charles Trumbull, Jim Kacian, & Dave Russo
A project is underway to create Haikupedia, an online encyclopedia of everything about haiku, to be featured on The Haiku Foundation website. Charles Trumbull, Jim Kacian, and Dave Russo will discuss the genesis, scope, and methods of the project and outline the needs yet to be filled as well as the desired points of involvement of the haiku community.
Any Questions?
For questions about HNA, contact us at hnawinstonsalem@gmail.com.
Hope to see you this August!
Bob, Lenard, and Dave