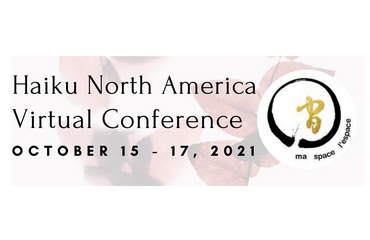 Haiku North America (HNA) is a biennial conference in celebration of haiku poetry. Haiku North America 2021 will be held October 15–17, 2021 as a virtual Zoom event. The event is free and open to all who register. Donations are appreciated.
Conference Theme: Ma
From the HNA site: "Ma is a concept that invites introspection into the idea of space; space out of space; architectural space using colour, shape, line, geometry; bridging spaces between words, notes, calligraphies, gardens, cultures, geographies, histories, physics; a gap or pause, an emptiness full of possibilities, negative space; in this age of Covid, the safe space."
While most of us would prefer an in-person event, the virtual format does enable us to hear from haiku poets that might not ordinarily make an HNA conference, such as Adjei Agyei-Baah, a haiku poet and editor from Ghana.
Adjei Agyei-Baah | Haiku Development in West Africa
"This presentation examines the origins of haiku and haiku events in Africa. Adjei Agyei-Baah will focus on West Africa as the beating heart of African haiku, and share sample haiku by its leading notable practitioners, whose works position them as would-be pioneers of the haiku art in the years to come."
The following NCHS members will be presenting at HNA 2021.
Donna Beaver | Native Ma
"The Japanese concept of ma as negative space in art includes sumi-e brush painting where large areas of space are intentionally left unpainted. This concept is very kindred to the totemic art of the Northwest Coastal tribes of the Tlingit, Haida, and Tsimshian, where negative space is a key element in its artistic composition. Alaska Native (Tlingit/Tsimshian) poet and artist Donna Beaver will take you into an Indigenous space (ma) of cultural art, poetry, and music."
Donna Beaver and Alan Pizzarelli | Ginko Walk
Donna and her husband, Alan will lead a ginko walk late on Friday afternoon of the conference.
Lori Minor & Joshua Gage | The Space Between Breaths
"Inspired by the theme of ma, this presentation will explore the erotic in haiku and the way space is used to create intimate moments. Joshua Gage and Lori A Minor go back to the foundations of haiku, and look at the way the erotic was treated in 17th Century Japan. They will then explore the erotic, the sexual, and possibly the pornographic in English Language Haiku past and present, working towards an understanding of how haiku poets have treated the subject of sex. There will be time for questions and discussion, and space to consider the untapped potentials of the erotic and the sexual in ELH and related forms."
Crystal Simone Smith | Nature As Captivity
"By virtue of its brevity, haiku is a straightforward way to engage in conversations about slavery. The technique of haiku increases the intensity of the moment, flooding the viewer or reader with sentiment and invoking candid responses. In this workshop, we will examine different approaches to writing haiku within historical contexts. While contemporary haiku writing is concerned with one's present in and appreciation for the natural world, writing haiku about slavery requires a response to historical events and documenting the lives of enslaved people. Many African Americans implicate the natural world in a personal or collective history of trauma. For the enslaved, specifically, nature was captivity. This presentation examines haiku about slavery through examples and discusses ways of constructing non-traditional yet, effective haiku."
Hope to see you at the conference!